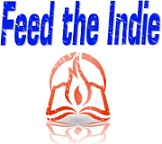 I love books. Maybe that goes without saying because I've started this site, but I thought I should say that before anything else.
Now that we got that out of the way, let's talk about why I started Feed the Indie.
Self-publishing has come a long way from the days of people looking at it as though it was a writer's last option. It's a real choice for many authors who want more control of the process. It's a long, difficult road, but not one without rewards.
These authors should be recognized. I've read a number of self-published books over the years that deserve more acclaim and recognition. Just because one of the Big 5 or one of their imprints didn't want to take the time to send it to the printer doesn't mean it is not good.
I want to share the books I've read. I want to talk about what make them good or bad. Indie authors should be treated the same as traditionally published authors – will all the praise and criticism that comes with it.
So why is the site called Feed the Indie?
It is feeing my indie soul. For years, I have adored indie authors and the bold moves they take to bring a book to the market. There are so many stories to read– and I'll never get to all of them. But I firmly believe we all have a story to tell and I love reading what others have to say.
I hope you share your books with me for review. I will be honest and fair.