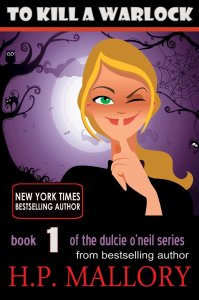 Where to find it: Amazon | Barnes & Noble | iBooks
Genre: Paranormal
Review: To Kill a Warlock has been on the market for four years, so I am a little late to the game in reading H.P Mallory's introduction to Dulcie O'Neil, but that only allows me to catch up more quickly on her series.
And I fully intend to do that.
To Kill a Warlock is a fun read even with a dark storyline. Dulcie is a fairy with a badge. Her job is to monitor creatures of the Netherworld to ensure they don't wreak havoc in the human world. A warlock is killed and it's Dulcie's job to figure out what happened.
Of course, a devilishly handsome investigator from the main office shows up to help Dulcie, and it's safe to say she's notice his good looks. This book reminded me of another series I thoroughly enjoyed – the Riley Jensen Guardian series by Keri Arthur.
Mallory wraps up the main story within To a Kill a Warlock but leaves elements open-ended to keep part of it going – and it has. There are six books and one novella in the series. Mallory also stated on her website, she plans to write another book in the series.
My biggest gripe – and I have seen this with similar books – is there is a female character who hasn't been on a date in a long time with no prospects knocking on her door. Yet, all within a week, guys are falling over themselves to be with her. It's frustrating, but certainly not a deal breaker.
Mallory has a fun way with words and does a great job of keep the story interesting in a genre that could tough to stand out.
Rating: 4 stars