Amazon revealed its Kindle First books for June.
Each month, Amazon gives readers the option of four pre-order titles. Pick one for $1.99 and read it right away, a month before the initial release date.
These books are all published through Amazon's imprints.
Here are June's picks (all descriptions are from Amazon: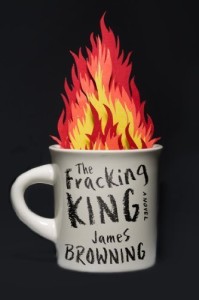 The Fracking King: A Novel
When the tap water at the Hale Boarding School for Boys bursts into flames, people blame fracking. Life at Hale has always been fraught—the swim test consists of being thrown into the pool with wrists and ankles tied, and a boy can be expelled if he and a girl keep fewer than "three feet on the floor." But the sight of combustible drinking water and the possibility that fracking is making Hale kids sick turn one student into an unlikely hero in the fight to stop the controversial drilling practice.
Winston Crwth, a Scrabble prodigy whose baffling last name rhymes with "truth," knows what it's like to be "fractured," having grown up with his father in Philadelphia and his mother in California. On Winston's comic journey to the Pennsylvania State Scrabble Championship, where he hopes to win an audience with beauty-queen-turned-governor Linda King LaRue, he matches wits with Thomasina Wodtke-Weir, the headmaster's prematurely gray daughter and the most popular (read: only) girl at school; the state poet laureate, whose verse consists of copying out dictionary entries and restroom graffiti; and David Dark, son of the CEO of Dark Oil & Gas, the source of Winston's scholarship money.
The Fracking King is a fantastically inventive debut about rowing crew, using all your tiles, and trying to save the world.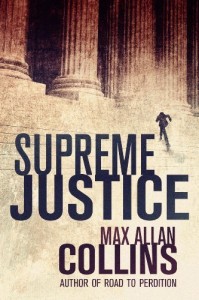 Supreme Justice
After taking a bullet for his commander-in-chief, Secret Service agent Joseph Reeder is a hero. But his outspoken criticism of the president he saved—who had stacked the Supreme Court with hard-right justices to overturn Roe v. Wade, amp up the Patriot Act, and shred the First Amendment—put Reeder at odds with the Service's apolitical nature, making him an outcast.
FBI agent Patti Rogers finds herself paired with the unpopular former agent on a task force investigating the killing of Supreme Court Justice Henry Venter. Reeder—nicknamed "Peep" for his unparalleled skills at reading body language—makes a startling discovery while reviewing a security tape: the shooting was premeditated, not a botched robbery. Even more chilling, the controversial Venter may not be the only justice targeted for death…
Is a mastermind mounting an unprecedented judicial coup aimed at replacing ultra-conservative justices with a new liberal majority? To crack the conspiracy and save the lives of not just the justices but also Reeder's own family, rising star Rogers and legendary investigator Reeder must push their skills—and themselves—to the limit.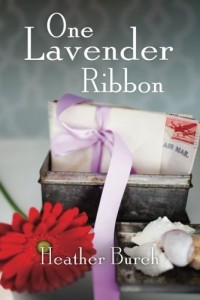 One Lavender Ribbon
Reeling from a bitter divorce, Adrienne Carter abandons Chicago and retreats to the sun, sand, and beauty of Southern Florida, throwing herself into the restoration of a dilapidated old Victorian beach house. Early into the renovations, she discovers a tin box hidden away in the attic that reveals the emotional letters from a WWII paratrooper to a young woman who lived in the house more than a half-century earlier.
The old letters—incredibly poetic and romantic—transcend time, and they arouse in Adrienne a curiosity that leads her to track down the writer of the letters. William "Pops" Bryant is now an old man living in a nearby town with his handsome but overprotective grandson, Will. As Adrienne begins to unravel the secrets of the letters (and the Bryants), she finds herself not yet willing to give up entirely on love.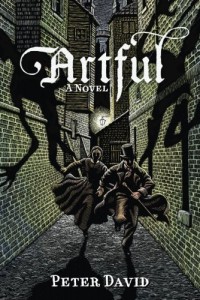 Artful: A Novel
Oliver Twist is one of the most well-known stories ever told, about a young orphan who has to survive the mean streets of London before ultimately being rescued by a kindly benefactor.
But it is his friend, the Artful Dodger, who has the far more intriguing tale, filled with more adventure and excitement than anything boring Oliver could possibly get up to. Throw in some vampires and a plot to overthrow the British monarchy, and what you have is the thrilling account that Charles Dickens was too scared to share with the world.
From the brilliant mind of novelist and comic book veteran Peter David, Artful is the dark, funny, and action-packed story of one of the most fascinating characters in literary history.
With vampires.