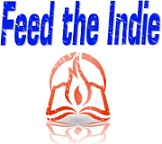 Last year, I Feed the Indie had more of a soft launch. I wanted to work the kinks (posting, timing, scheduling, social media, etc.), and then get ready for 2015.
This year is going to be a big one for indie authors as so many of them have gained credibility based on their talent.
The goal at Feed the Indie is to get at least two book review up a month for the first half of 2015, and then move it to one a week. I've read so many indie books over the years, and love to give attention to older books in hopes of renewing interest. But I also want to focus on newly released books.
The indie author movement is not going away; it's simply getting stronger and tougher. Authors have a lot of competition, but even in the face of all that competition, indie authors have shown their excitement and passion for other writers. Success for one is success for a group.
This year will be a strong on for the top writers, so we all need to keep working on our craft and get better. Read more. Write more. Dream more.
Happy New Year!