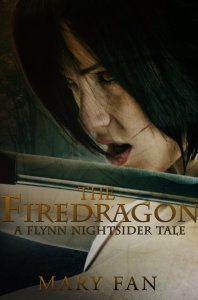 Where to find it: Amazon | iBooks | Barnes & Noble
Genre: Fantasy/Paranormal/Young Adult
Review: The Firedragon disappointed me – only because I wanted more.
The short story by Mary Fan offers a glimpse into a new world where the earth is being overrun by supernatural beings. Aurelia is a 14-year-old with no magical skills, but she makes up for it with her physical prowess and unmatched fighting ability. Aurelia wants nothing more than to prove that she can fight alongside the enchanters, magical being that keep society safe from monsters. And those in charge – with literally have all the power – can't let that happen.
By being the only ones who can supposedly defend everyone against evil monsters that walk the earth, the enchanters have kept their hold on civilization.
But to a 14-year-old that hardly matters.
Teens don't think about implications of their actions and in the Firedragon, Aurelia has taken an unexpected role in what eventually looks to be a revelation into something much bigger.
Mary Fan takes elements from The Hunger Games and the Divergent series where a young female protagonist doesn't realize her impact on the world until it's too late to turn back. But that's hardly a knock. Fan is able to create a world with a fresh that you're not thinking about Katniss or Tris.
Even in this small offering, Fan does enough to explain a new world and add elements of a budding story so that readers will understand and be drawn into this fantasy world. A drawback is that there is a little bit of too much background information that slows the story at times.
This is obviously a prequel to what seems to be a much bigger story. If Fan was hoping to entice readers with this tease, she's found one reader who is ready for the full course.
Rating: 5 stars